Resolving Certificate Error with iOS devices
iOS Certificate Resolution 
(iPhone, iPad on iOS 13.4)
---
If you are receiving an error with your iOS device regarding certificate authentication this is caused by the renewal of our Secure Socket Layer (SSL) Certificate.  This SSL Certificate is used to secure transmission of emails from the sending party to a receiving party.  The error will look similar to what is below.  If you have the option to Continue you can select that.  Should it fail or not connect please refer to the rest of this article for assistance.
While SSL is not required it is recommended in setup.  The issue can be resolved in a couple ways, all of which will be provided in the Table of Contents to the left.  Please make sure to follow the steps provided in order.  In order to resolve the certificate error iOS devices might receive the account will need to be removed and then added back onto the device.  This will force the trusted certificate back on and should resolve any issues.
---
Removing your email account from an iOS device
On your iOS device we will need to remove the current email account.  This can be done by following the instructions below.  
Tap on Settings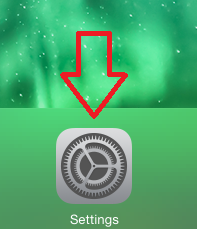 Tap on Passwords & Accounts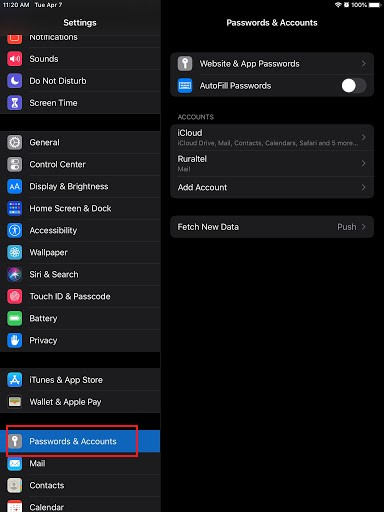 From here you will see your mail account under "Account".  Simply select Delete Account.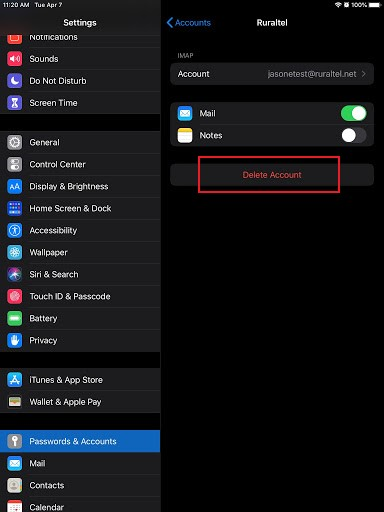 ---
Adding Your Mail account to iOS via Auto Profile Setup
To add your account back onto your iOS device you will need to open any browser on your device.  Screenshots below are shown in Safari.  You will to navigate to http://webmail.ruraltel.net.  From here you should see the screen below.  Select "Download the profile"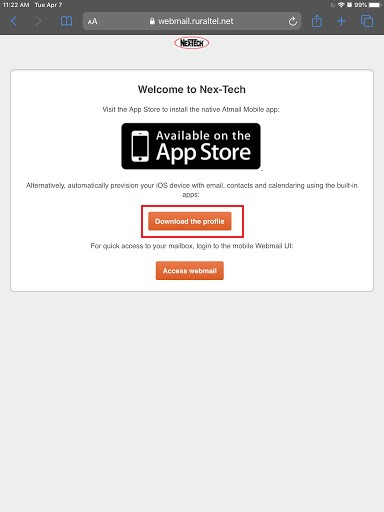 It will navigate you to another screen asking you to enter your email address and password.  This will allow the auto profile setup to install the needed information.  Once you have entered your email address and password push "Get My iOS Profile"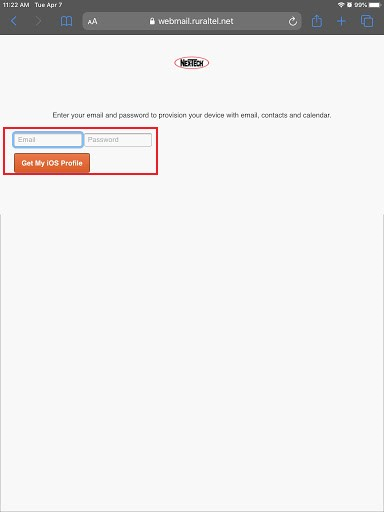 You will see a new page saying your account has been provisioned!  From here you might get a security prompt shown below.  Make sure to select Allow so your device will download the profile to install.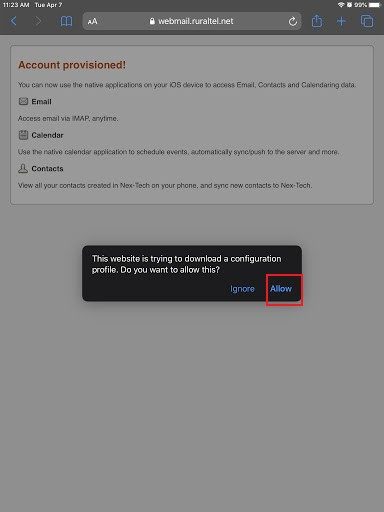 Once the profile has been downloaded select Close on the prompt and you can close your web browser.  From here go back into your Settings and under General you will see "Nex-Tech iOS Provisioning Settings".  Select this.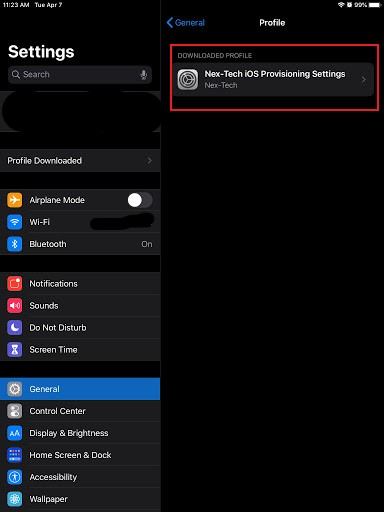 Select "Install".  This will install the needed server settings for your mail account.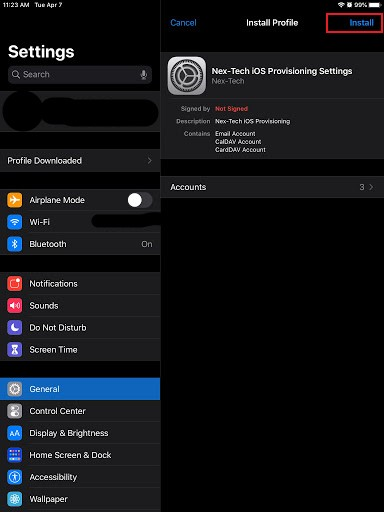 Once that is complete if you have a pass-code on your device you will be prompted to enter this in.  Please do.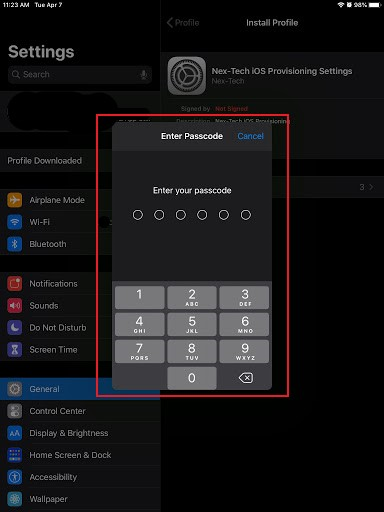 Once that is done your mail account is setup!  If you wish to use the Calendar and Contacts provided with your mail account you can do so as well.  If you select Install again it will ask for your email password again for the Calendar and again for your Contacts.  If you do not wish to use those, you are done!
Should you need any help with email or any questions on this article you can call the Nex-Tech Help Desk at 888-565-3200.  
---