Nex-Tech Streaming TV with Roku
Article ID: 998 | Last Updated: Sun, Jun 4, 2017 at 12:35 PM
Nex-Tech Streaming TV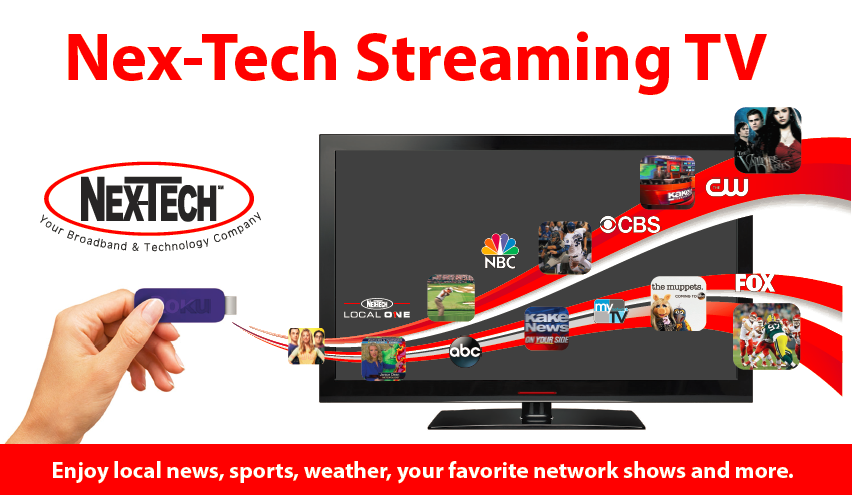 How to set up your new Roku Device with Nex-Tech Streaming TV.
Sign up for Nex-Tech Streaming TV at your local Nex-Tech store or online.
Purchase your Roku 3 or Roku Streaming Stick.  The Roku Streaming Stick is available at Nex-Tech for $49.99 or at select retailers.
Nex-Tech will provide your Nex-Tech Streaming TV Account ID Number and Pin to you via the method indicated (email, text or phone).  This will be provided within one business day.
After you receive your ID Number and Pin, plug your Roku device into your TV according to the manufacturer instructions.  You will also need wireless Internet connectivity.  Follow the steps on the screen until your Roku provides a code to active it.  You will need a computer or smart phone to complete this step.  Visit www.roku.com/link.  You will enter the code previously provided and follow the steps to set up your Roku account.
Once you have set up your Roku account, your Roku device will begin updating with your chosen preferences.  After this update is complete, return to your computer or smartphone and visit 

http://my.roku.com/add/NexTechRoku

.  Sign in with your Roku username and password.
A message will appear on the screen "Add Nex-Tech Client to your Roku Account".  Select "Yes, Add Channel."
On your TV, press the home button on the Roku remote.  Go to Settings, System,System Update.  Select "Check Now".  Your Roku at this time will preform an update and now your Nex-Tech channel will appear when you go to the Home Screen.
Select the Nex-Tech channel and enter the Nex-Tech Streaming TV Account ID Number and Pin provided to you by Nex-Tech Customer Sales.  You are now ready to watch your Nex-Tech Streaming TV Programming!
Questions?  Call the Help Desk at 888-565-3200
Please be advised that Roku3 or Roku Streaming Sticks are required for Nex-Tech Streaming TV and are available for purchase at select retail stores or at Nex-Tech.  Monthly price does not include Retransmission Fees.  Available composite or HDMI input required on TV.  Nex-Tech High-Speed Internet subscription required with speed 6 Mbps or faster.  Not available in all areas.