Streaming Amazon Instant Video
Streaming Amazon Instant Video
---
PS4


1. Go to TV & Video.
2. Go down to the Amazon icon and click on the tile.
3. Select Download to download the app.
4. Once it is downloaded, it should automatically open. If it doesn't, go to TV & Video and go down to Amazon and select it to open the app.
5. Select "Sign in and start watching."
6. Enter your email address and password and follow the onscreen instructions to begin streaming videos on Amazon Instant Video.
7. If you don't have an Amazon account, select "Register on the Amazon.com website."
8. A one time use 5 character code will appear. Make note of this code.
9. On your tablet or PC, go to www.amazon.com/mytv and create your Amazon account.
10. Enter the Registration Code on the next screen after you have created your account.
11. Follow the remaining on-screen instructions on your PS4 and you can now stream videos on Amazon Instant Video.

---
Xbox One
 
1. Log into Xbox Live.
2. Scroll over to the Apps section of the store and select Apps.
3. Scroll over to search apps and type in "amazon".
4. Amazon Instant Video will be the first result. Click on it and then click Install. Once it is downloaded, click Launch.
5. When the Amazon Instant Video app opens up, click on Sign in. If you do not have an account, you can created one at www.amazon.com/account.
6. Enter your amazon email address and password on your Xbox One and click Sign In. You are now logged in. Enjoy.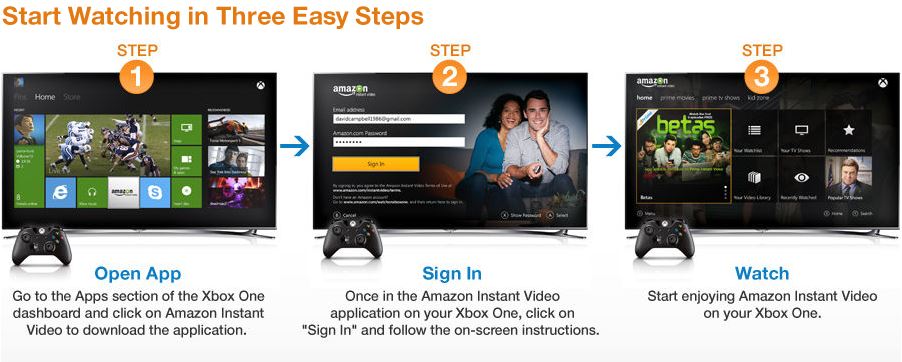 ---