Guide Information
Guide is the place to quickly find out what's on now and what's playing later.
Here, you can also set reminders or recordings for upcoming programs.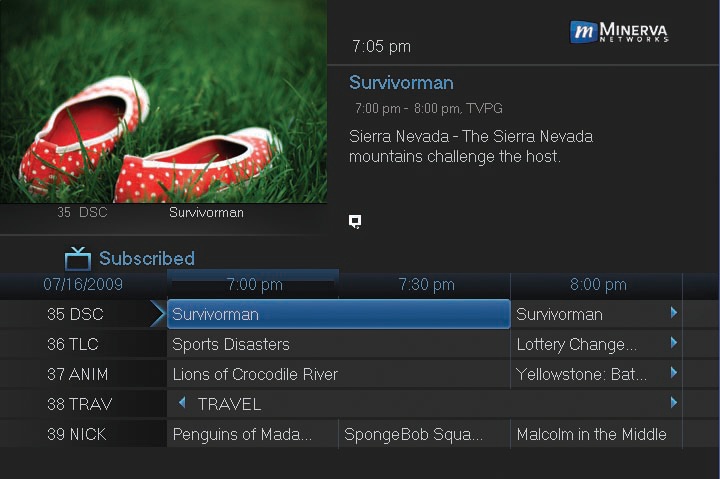 Go to Guide

Press GUIDE on the remote.
Press MENU on the remote, highlight GUIDE and press OK.

Navigating the Guide
Press the ARROW KEYS to move the highlight.
Jump to a channel by entering the channel number using the NUMBER PAD (0-9).
Press PAGE UP or PAGE DOWN to jump up or down one screen of listings.
Press PAGE FORWARD or PAGE BACK to jump 12 hours ahead in listings and
up to 12 hours back.
Press OK to choose the program you have highlighted. If the program is currently airing, Guide will to you to the channel.
Press EXIT to leave the Guide.

HDTV Programming

Programs available in HD will appear in the Guide with a blue HD icon next to the name of the program. In order to watch HD programming, you will need an HDTV-capable set top box and TV and may need to subscribe to an High-Definition channel package.

Scheduled Events
A Scheduled Event is any setting you create that causes the system to remind you about a program or to record a program automatically. There are three types of Scheduled Events: reminders, auto tunes and recordings.

Reminder: Informs you that a program you like is about to come on.
Auto Tune: Automatically changes the channel when the program you've chosen is about to start
Recording: Automatically records the program to your set top box.
Note: Your set top box must support recording to use the Record event.

For detailed instructions on setting scheduled events, click here.

Favorite Lists
While in Guide, you can cycle through your Favorites list by pressing GUIDE repeatedly. Each press will activate the next favorites list. The name of the Favorites list is shown on the green tab in the picture-in-picture area. This causes the Guide to only display the channels included on that Favorites list. Pressing GUIDE once you have cycled through all Favorites lists will exit the guide.