Understanding the Menu Bar
The Menubar is a quick and easy way to access any feature of your service.


To display the Menubar, press MENU on your remote control.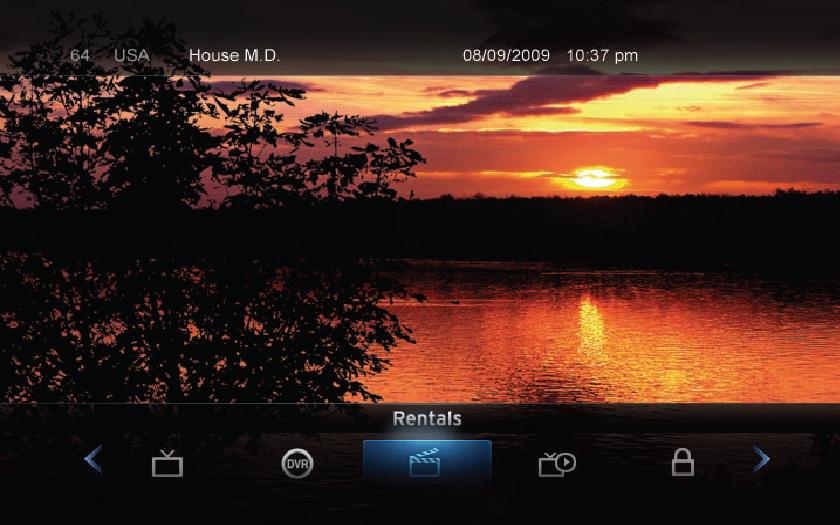 Guide will bring up the program guide.






PPV jumps directly to the Pay Per View channels in the program
guide.





DVR provides access to programs recorded using DVR, as well as
reviewing recordings you have scheduled, creating scheduled
recording events, reviewing the history of what you have recently
recorded, or deleting your recording history.




Rentals provides access to rent Video on Demand movies and
programs.





My Library provides quick access to previously purchased rentals,
reminders you have scheduled, messages regarding your service
and Caller ID history.





Parental Controls allows you to temporarily disable or
enable all parental controls. Note: Parental Controls will not
appear until you have created parental control settings.




Settings offers access to creating parental controls and setting
blocked channels, determining how things appear on screen, and
creating, editing and deleting user accounts.




Favorites allows you to choose, edit, create or delete a favorite
channel list.





Search allows you to search program listings or Video on Demand
rentals by title.





Widgets offers access to news headlines, weather and other
up-to-date information.





Sign Out allows you to sign out of the current user account. This
only appears if you are using the Enable Login option under
Settings/Preferences, have multiple user accounts and have
signed in with a username and password.