Nex-Tech 844e Device Access Scheduling
How to set up a schedule in a Nex-Tech 844 router.
In this article we will explain the access schedule feature of the Nex-Tech router, as well as how to set it up.
What is the access schedule?
This feature allows you to set times when the internet can and cannot be used. Parents can set times when children are allowed access to the internet on any specific device.
How do I set up a schedule?
To set up a schedule you will need a device connected to your network (preferrably using a wired connection, but wireless will work as well). Once connected, use the following instructions to log in to the router and configure your access schedule.
Setting up the schedule.
From a device connected to your home wifi or via an Ethernet cable to your router type the address of 192.168.1.1 into your internet browser(Internet Explorer, Firefox, Google Chrome, Safari).
This should prompt you for a user name and password. Use the following:
Username: user or support
Password: *Please Call The Help Desk(888-565-3200) To Receive the Password*
Across the top you should see a list of options. Status, QuickStart, Wireless, Utilities, Advanced, Support. 

When you select one of these options it will load a page that has subcategories on the left hand side
Status-> Devices: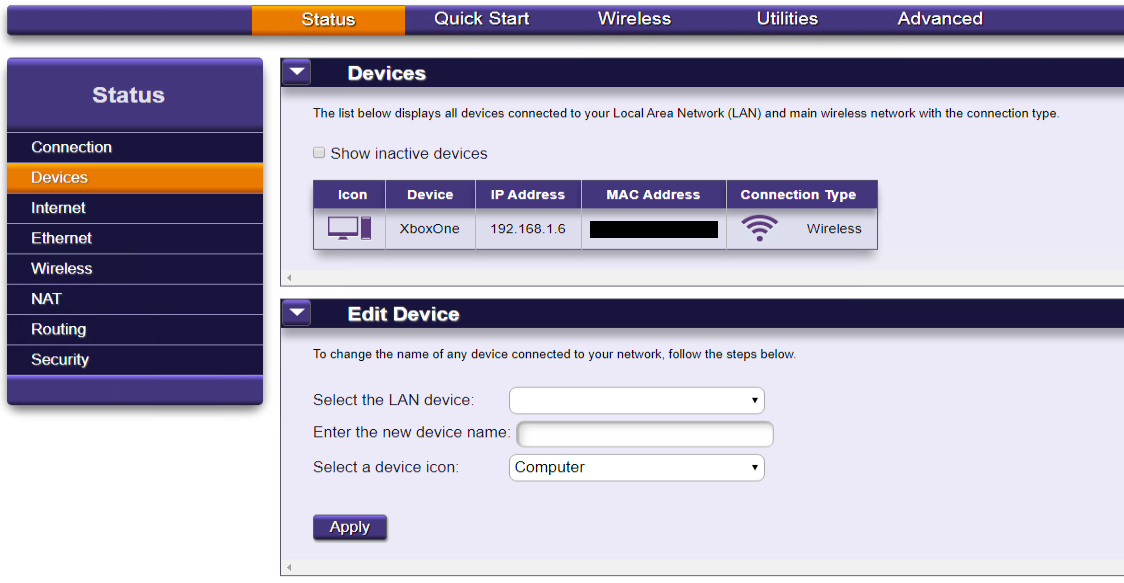 This page will allow you to see the currently connected devices and their associated IP address & MAC Address
You can also see if the device is connected via Ethernet or Wifi
Advanced-> Scheduling and Blocking-> Scheduling Access: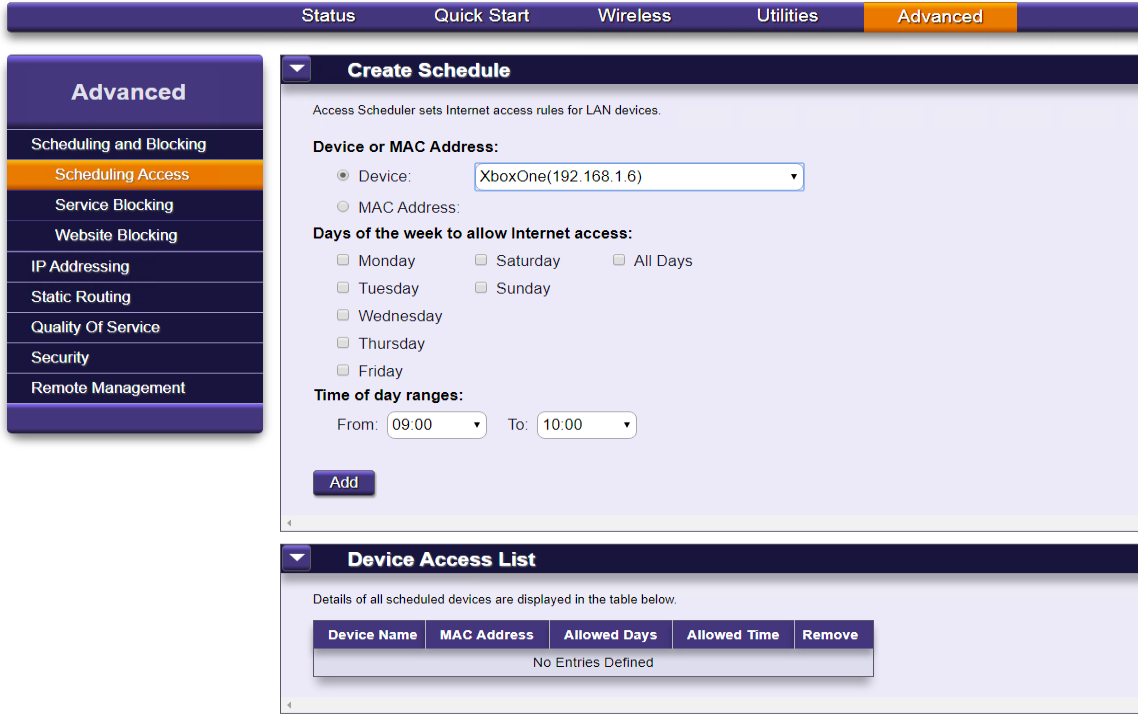 This is where you can setup a schedule for internet access based on device.
Under the Create Schedule section in the middle you first want to put a dot in MAC Address(You can schedule based on Device/IP but the IP can change from time to time whereas a MAC address will never change).
Then you will enter the MAC address of the device you want to schedule in the format of xx:xx:xx:xx:xx:xx
Next you would select the days that the schedule is in effect

Scheduling rules are setup to ALLOW access so you would schedule the days/times that internet access is allowed on a specific device.

Then select the time range for when access is allowed(24hr clock, no AM/PM selection)
Then click add to save the rule.
Repeat for other days/times/devices you want to allow access to.