Windows XP/Media Center Edition Clean Install
---
Windows XP/Media Center Edition
NOTE: Microsoft Ended Support of Windows XP on April 8th of 2014.
Note: When doing a Windows XP Clean Install, it is important to know what version of Windows XP is on your machine, Home or Professional. Also make sure that you are using the proper CD for the type of install, OEM or Retail. You can verify the type of Windows installed by looking at the Certificate of Authenticity on the computer. This can be misleading however if you have changed versions since owning the computer. Do some research on the system if you are unsure. All system CDs have been slipstreamed to the newest service pack so you will not need to have the same service pack matching. You will need to run Windows Updates after install to ensure system is up to date.
1. Insert XP CD into CD drive. Press ENTER to resume booting from the XP CD. (BIOS must support booting from CD and boot order must be set so CD boots before hard drive.
2. Press any Key when you see the prompt to 'Press Any Key"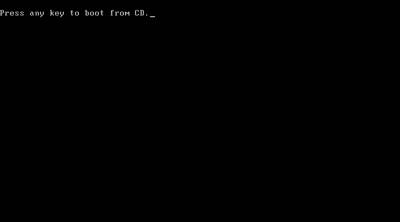 3. Setup will start copying files, if you need to install any third-party or RAID drivers press F6 at this time. The copying of files can take awhile.
4. Next you will get the option to repair or enter setup, choose to enter setup. Press ENTER.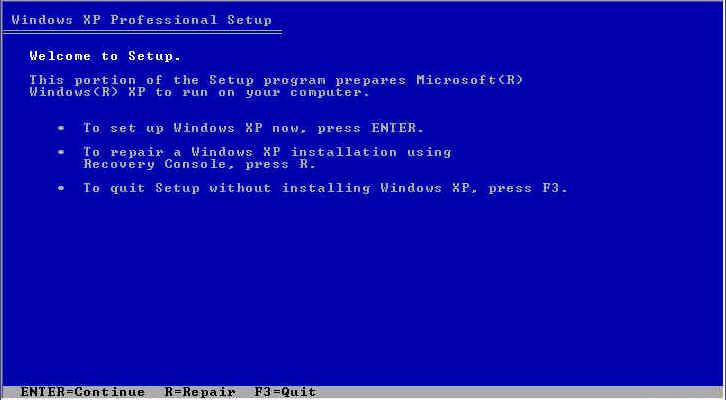 5. Press F8 if you agree to the license.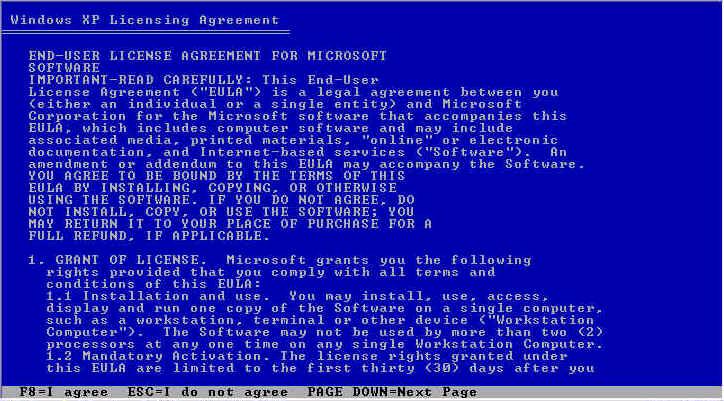 6. Setup will scan for previous Windows installation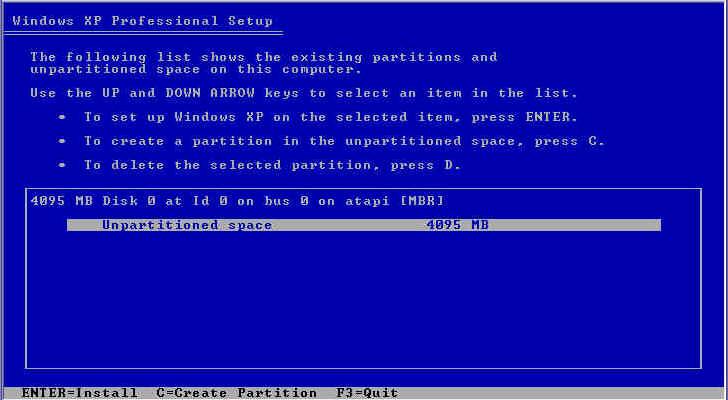 7. Choose the location to install.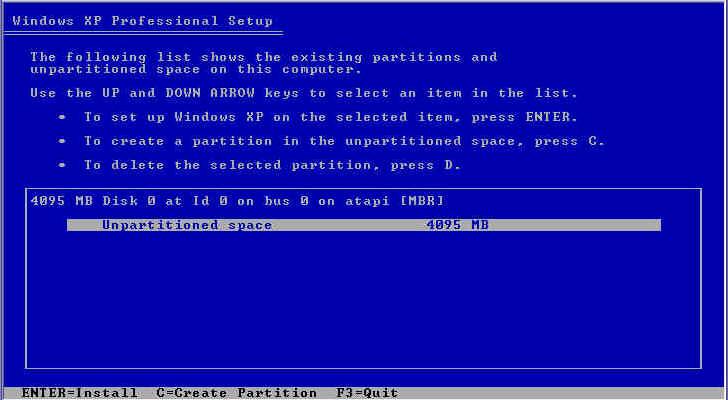 8. If this is a clean hard drive, you can choose to create a partition in the un-partitioned space. At this point, you can allow Setup to use all the space or set a size for the partition. If the hard drive or partition has a previous installation of XP you want to remove, choose to delete the partition by pressing "D". You will then be prompted to create a new partition in the empty space. This will remove all data from the deleted space.
9. Choose the file system from this screen. NTFS is configured at the optimal file size during the initial setup.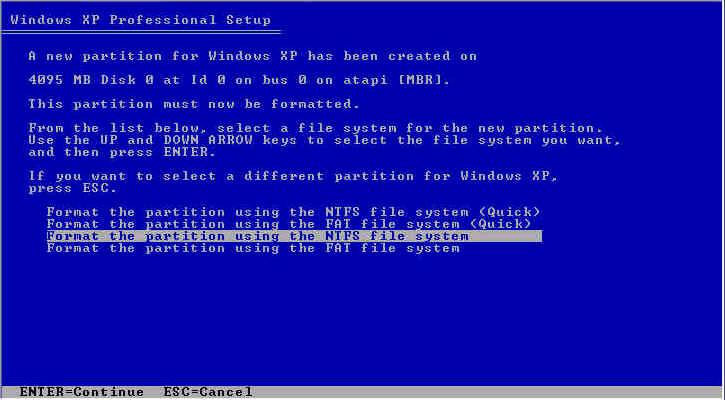 If you have more than one partition or hard drive on your system, make sure you are formatting the correct partition/drive.
10. Setup will show a progress box and reboot when copying files is complete.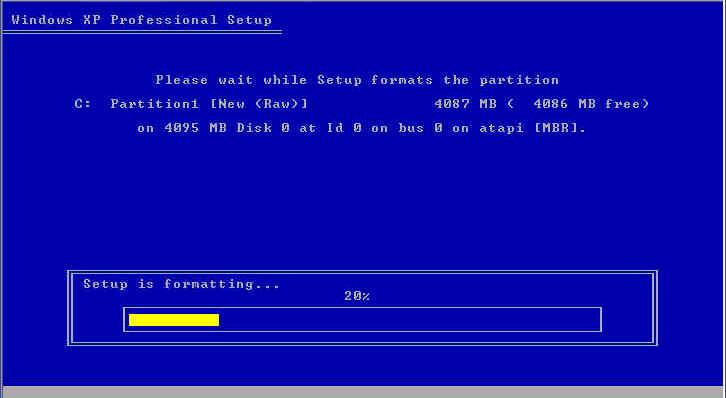 11. When you see the "Press any Key to Reboot" do not Press any Key. If CD boots anyway, remove CD and reboot.
12. From this point, you will follow the on screen prompts.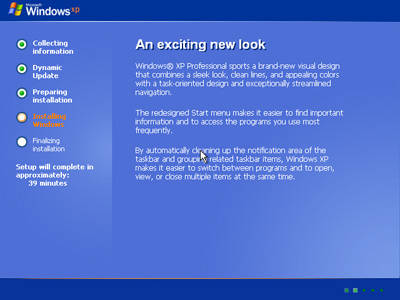 13. Personalize your XP Enter your Name and Organization.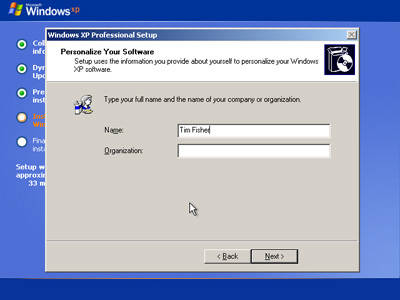 14. Choose a name for the computer; this should be a unique name for the computer, especially if it is to be connected to a network. In Pro, you are given the option of creating a password or leaving it blank.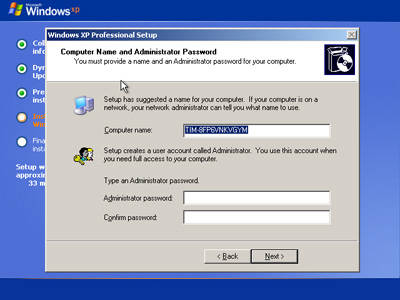 15. Set your Time Zone and Time and Date.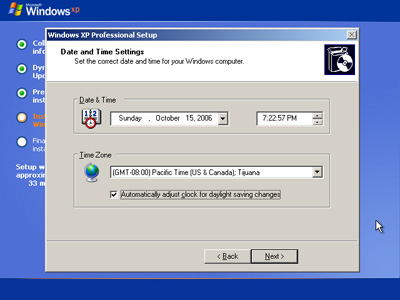 16. Setup will scan for network.
17. If detected you will have the choice to choose a typicalconfiguration or custom. Choose typical if you are unsure.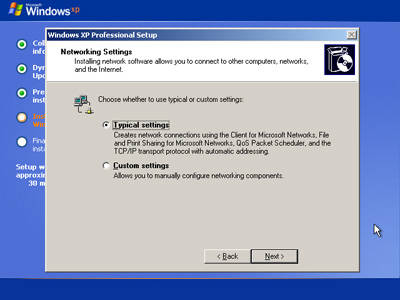 18. For home you will choose your workgroup, if a network is already established and you intend to connect to it, use the existing workgroup name, otherwise, I suggest using the default.
19. For Pro, the same goes for Pro as suggested for Home, but you will have the choice to join a Domain, if you do not have a Domain or do not know leave blank.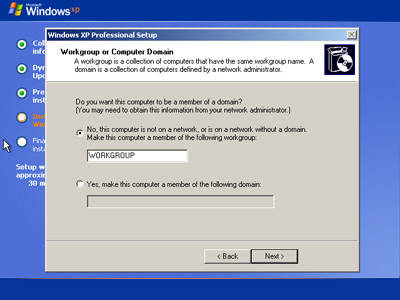 20. Setup will continue and reboot when completed ignore the "Press Any Key".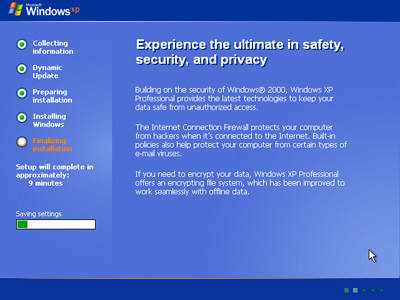 21. The XP loading window will now display after reboot.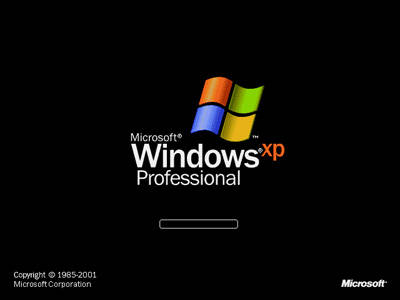 22. You will see a change display settings, say OK, and accept the setting if you can see the screen after accepting.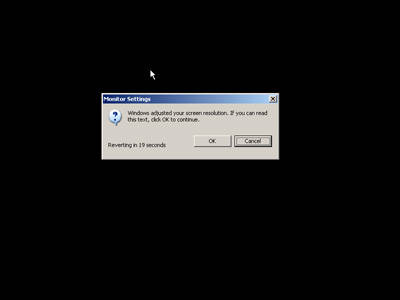 23. You will see a welcome screen, press next and unfortunately you have to wait for the dialog to finish.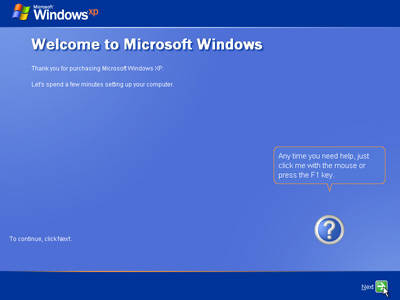 24. Set up your internet or network connection.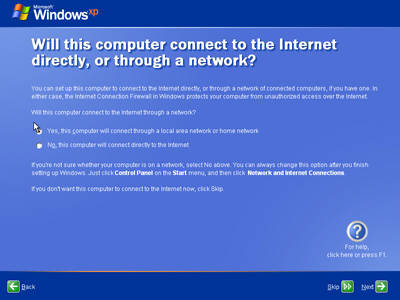 25. This is the Activate, Register screen. You must activate within 30 days of installing XP, but you do not ever have to register. Registration is completely optional and if you do not register, no personal information will be transmitted during activation. If you register, then activation will transmit that information along with the activation. The first Activation is usually done over the internet if the computer is connected to the internet, otherwise, it can be accomplished by copying the alphanumeric string from the activation screen and make a phone call to the phone number supplied on screen. The activation center will then give you a slightly longer number to input into for activation.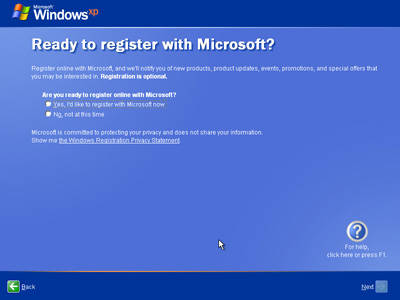 26. If you chose to register, insert the names of the people that will be using the computer and press Next.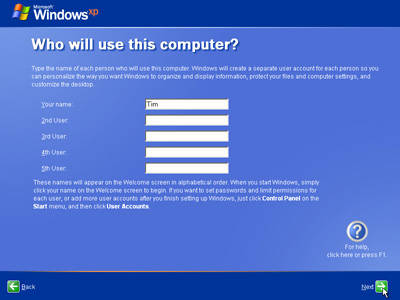 27. Once you have registered, you will see a Thank You screen. Simply press Finish.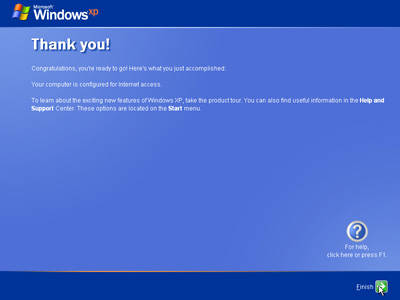 28. Windows XP will now start loading up for the first time.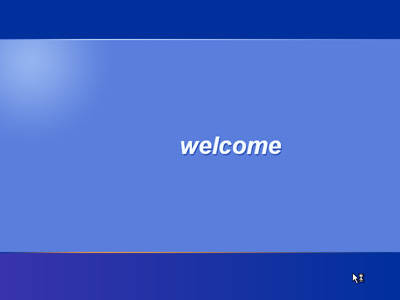 29. You should now see the Windows XP desktop and you have now completed the clean install of Windows XP/Media Center!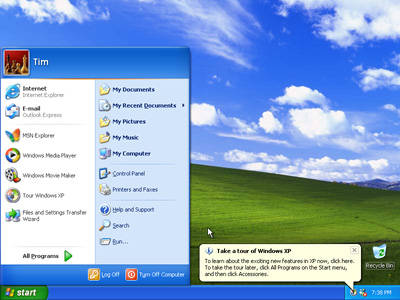 ---