Page Cannot Be Displayed Error
---
Page Cannot Be Displayed Error

Internet Explorer is a popular web browser that many people enjoy using. That doesn't mean, however, that it works perfectly every time for everyone. If you are encountering a "Page Cannot Be Displayed" error when attempting to view webpages, you can try these basic troubleshooting steps to help determine where the issue may be.

---
Does It Only Happen On One Page? Try browsing to different websites, such as www.google.com, www.yahoo.com or www.msn.com, to see if it is happening on all websites or just one particular page. If it is only happening on one page, it is possible that the website is currently down for the moment or the address is typed in incorrectly.
---
Have You Powercycled Your Modem/Router? If you have a modem, usually Comtrend or Motorola, and/or a router, usually Linksys, Belkin, Netgear or D-Link, try unplugging the power cables from the devices. Once you have the power cables unplugged, wait about 5 minutes and then plug them back in to see if your internet begins to work again. We recommend waiting about 5 minutes so that our servers have enough time to drop any previous connections that you may have had.
NOTE: Do Not press any reset buttons on your modem or router. The reset button will restore the device to factory defaults and may require you to call the Nex-Tech Help Desk in order to get it configured again.
---
Are You Able To Ping Out? Even though you are getting a "Page Cannot Be Displayed" error, it is possible that there still is an active internet connection on the computer and that Internet Explorer is having troubles working with it.
| | |
| --- | --- |
| Windows 7 and Vista: Click on the Start Menu and type cmd in the Search programs and files box. Then press enter. | |
| Windows XP: Click on the Start Menu and then click Run... Then type cmd in the box and press enter. | |
Now a black Command Prompt screen should open up. Type
ping google.com
and press
enter
. If your internet is working, you should see a
Reply from XXX.XXX.XXX.XXX
, where the X's represent numbers. This shows us that there is an active internet connection on your computer and Internet Explorer may just have problems working with it right now. If your internet is not working, you may see a
Ping request could not find host google.com. Please check the name and try again
.
NOTE: Depending on the version of Windows you have, you may
be typing the ping google.com after C:\Users\username>, C:\Documents and Settings\username> or something similar. This is normal.

---
Have You Tried Resetting Internet Explorer? If you are able to ping out, you may want to try to reset your Internet Explorer. The settings in Internet Explorer may get changed from time to time for multiple different reasons. Some times these changes may not allow Internet Explorer to work with your internet connection. Resetting Internet Explorer will set all of it's settings back to its original state and may allow you to browse the web again.
To reset Internet Explorer, you will first need to open up Internet Explorer. Once internet explorer is opened, we will need to get in to
Internet Options
. Depending on your version of Internet Explorer, there are a couple different ways to do this:
| | |
| --- | --- |
| Click on Tools at the to of the page and then click on Internet options. | |
| or | |
| Click the Tools button(a gear wheel) on the top right of the screen. Then click on Internet options. | |
Now an
Internet Options
screen should open up. Click on the
Advanced
tab at the top right and then click the
Reset...
button.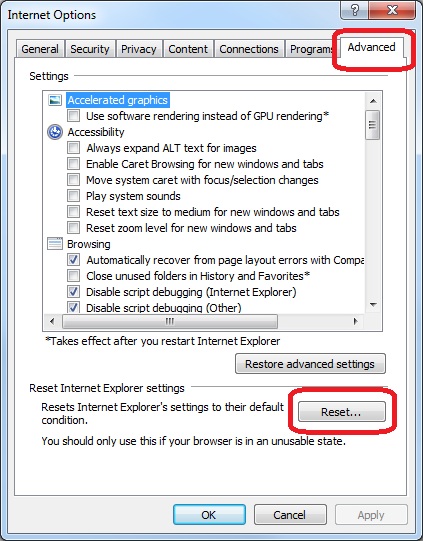 On the next pop up screen, go ahead and press the
Reset
button.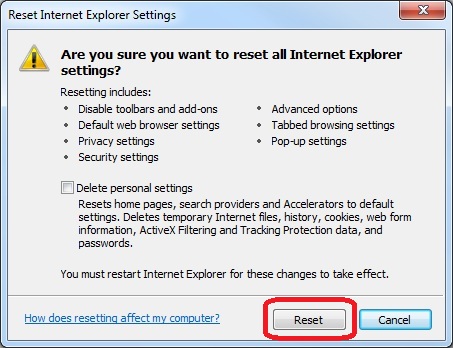 Once the reset is done, click
Close
. Then you will have to exit out of Internet Explorer and open it back up for the rest to take affect.
---
If you are still unable to browse the web, you may have to call the Nex-Tech Help Desk at 888-565-3200 for further assistance.

---